BEHRINGER ULTRATONE KXD12 600-Watt 4-Channel PA System / Keyboard Amplifier with Original 12" TURBOSOUND Speaker, KLARK TEKNIK Multi-FX Processor and FBQ Feedback Detection
Price

RM1,559.00

Product SKU
KXD12
Brand
BEHRINGER
Points Needed

70000

Availability
In Stock
Quantity
Description
Highlight
Bi-amped 600-Watt 4-channel PA System / Keyboard Amplifier
True bi-amping amplifier design delivers dedicated power for LF and HF drivers
Revolutionary Class-D amplifier technology: enormous power, incredible sonic performance and light weight
World-famous, British engineered 12'' TURBOSOUND speaker and 1'' driver
Ultra-high quality KLARK TEKNIK FX processor with 100 presets including reverb, chorus, flanger, delay, pitch shifter and various multi-effects
Revolutionary FBQ Feedback Detection System instantly reveals critical frequencies
Full 4-channel stereo operation with separate Volume and FX Send per channel
Additional XLR mic input on Channel 1 for direct connection of dynamic microphones
Dedicated 7-band graphic EQ for awesome sound shaping
Balanced stereo XLR DI with Ground Lift switch for direct connection to your mixing console
Main section with FX Return level, Master Volume, Phones level and Shape switch
Link in
- and outputs allow combining two KXD-amps for true stereo operation
Subwoofer output for ultimate low-end power
AUX input allows you to play along to your favorite music
Separate headphone output—perfect for quiet practicing
Designed and engineered in Germany
ULTRATONE KXD12
The amazingly-powerful ULTRATONE KXD12 excels as an extraordinarily-versatile keyboard and drum amplifier, as well as a high-quality 4-channel Public Address (PA) system, with a world-class, 12" TURBOSOUND Speaker in one compact and easy-to-transport package.
Specializing in rich, accurate tone and professional features, such as a studiograde KLARK TEKNIK Multi-FX Processor, true bi-amplifier design, and our FBQ 7-band graphic EQ, this 600-Watt workhorse will bring out the best in your instruments and vocals gig after gig.
Bi-Amplification - The Path to Absolute Signal Integrity
With its 600 ultra-clean Watts of digital output, delivered through separately-powered drivers via a true bi-amping mode with 2 amplifiers per speaker, the KXD12 delivers high-resolution sound that really brings out the best in your music. You will notice that most competitors apply simple passive crossovers, which not only inaccurately separate the frequency spectrum, but most importantly impact the drivers' performance. BEHRINGER has gone the extra mile, driving each woofer and tweeter with a separate amplifier for absolute signal integrity.
Tech Specs
Speaker Size: 1 x 12", 1 x 1" Tweeter
Total Power: 600W
Inputs: 1 x XLR, 8 x 1/4", 1 x RCA (Stereo), 1 x 1/4" (Footswitch)
Outputs: 2 x XLR, 2 x 1/4", 1 x 1/4" (Stereo Link), 1 x 1/4" (Sub Out), 1 x 1/4" (Headphones)
Height: 17.4"
Width: 18.5"
Depth: 11.7"
Weight: 40.3 lbs.
Manufacturer Part Number: KXD12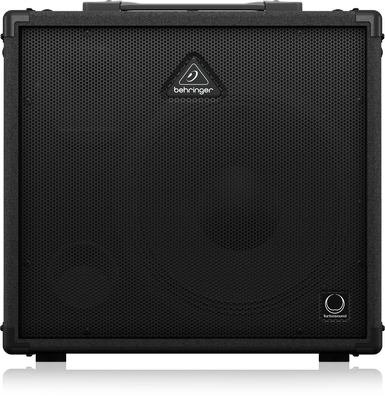 Reviews (0)
view all
back
What's in the box
1 unit X KXD12