Price

RM80.00

Product SKU
UO300
Brand
BEHRINGER
Points Needed

4000

Availability
Out Of Stock
Description
Highlight
Create a monster sound by adding 2 additional tones using your guitar?1 and 2 octaves below the original tone

This Behringer product has been designed to compete head to head with leading products on the market

Dedicated volume controls for all 3 tones for awesome sound shaping

Flexible 3-mode Range switch allows ultimate bass performance

Status LED for effect on/off and battery check

Runs on 9 V battery or the Behringer PSU-SB DC power supply (not included)

First-class electronic On/Off switch for highest signal integrity in bypass mode

Designed and engineered in Germany
ULTRA OCTAVER UO300
It is widely known that there is great strength in numbers. The ULTRA OCTAVER UO300 underpins your sound with added muscle, generating notes one and two octaves below what you play. The result is powerful, with the deep, rich impact that is only possible when guitar and bass lines are joined at the hip. Wanna play bass lines with your guitar? Wanna play synth-like lines with the addition of some fuzz with your guitar or bass? The stunning UO300 will make your tonal dreams come to life.
Ease of Use
First, use the dedicated Range control to specify whether you want to add beef to the high, middle or low frequencies, then dial in the amount of your original sound with the Direct knob. Lastly, turn up the OCT 1 and OCT 2 controls to add the lower octaves. Now bask in the adoration of your fans.
Not Just for Guitar
The UO300 isn't just great for fattening up guitar riffs – it can add incredible beef to keyboards and bass, too! The status LED tells you when the UO300 stomp box is working its magic, and the on/off switch maintains superior signal integrity in bypass mode. You can power the UO300 with either a 9 V battery or our PSU-SB DC power supply (not included).
Tech Specs
Pedal Type:Octave
Inputs:1 x 1/4"
Outputs:1 x 1/4"
Power Source:9V DC power supply (sold separately)
Batteries:1 x 9V
Height:2.125"
Width:2.75"
Depth:4.8"
Weight:0.73 lbs.
Manufacturer Part Number:000-60300-00010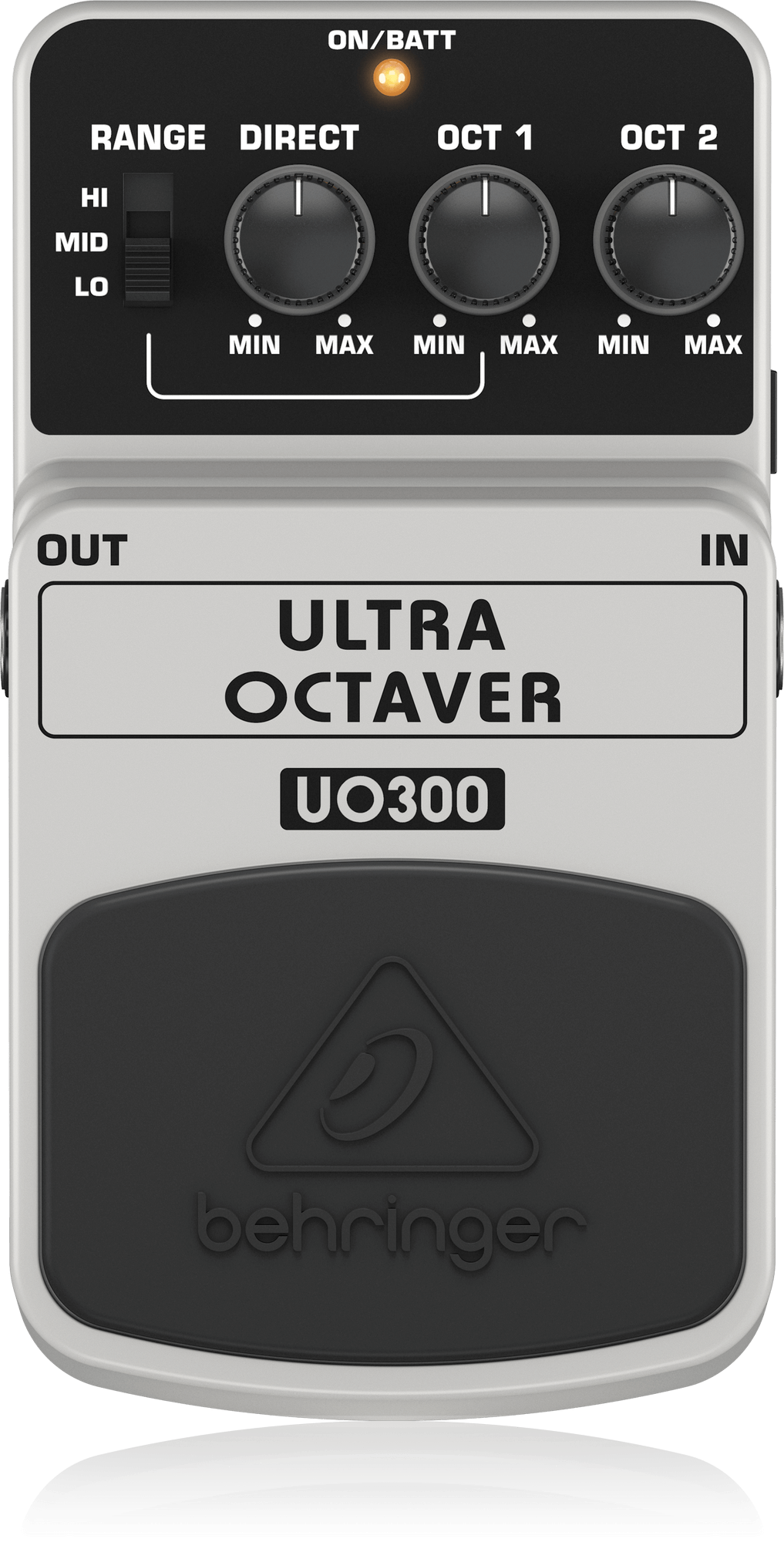 Reviews (0)
view all
back
What's in the box
UO300 x1